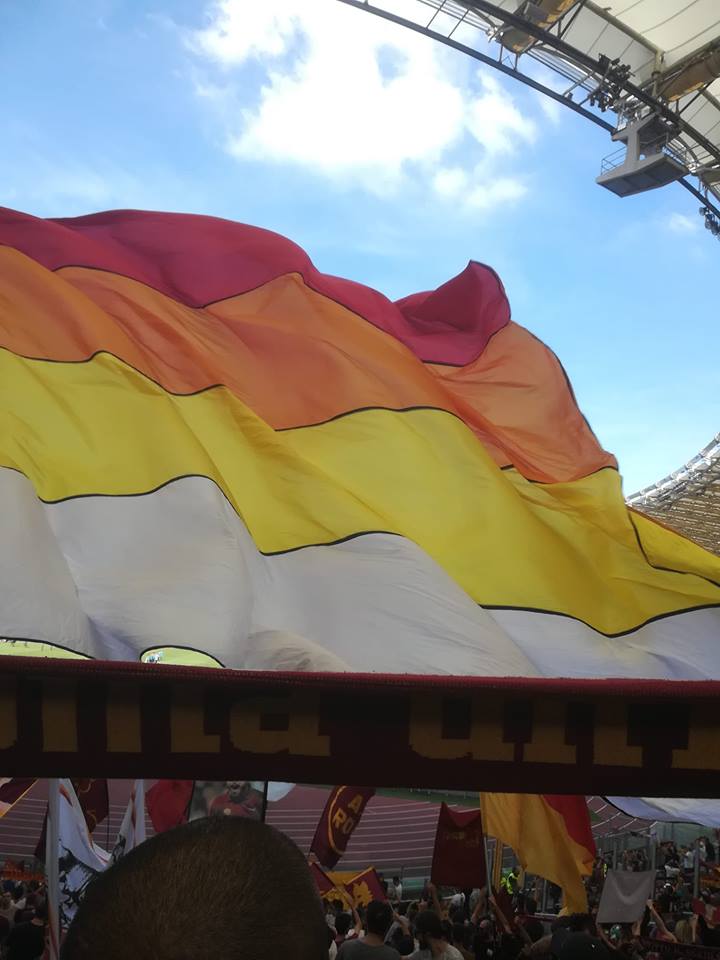 Finora, la Roma è quarta. Ha un record di 10 vittorie, 5 pareggi e 2 sconfitte, con 33 gol fatti (4o attacco del campionato) e 17 subiti (3a difesa del campionato a pari merito con la Juventus). Nelle ultime 7 partite (considerando sia campionato, sia Europa League), abbiamo un record di 5 vittorie e 2 pareggi, che hanno sancito la qualificazione ai sedicesimi, dove affronteremo il Gent, che è nella pausa invernale, attualmente secondo con Charleroi e Anversa, anche se il Charleroi ha una partita in meno. Questi dati confermano che la Roma è una delle migliori squadre del campionato (e una delle favorite in EL) e che è in crescita, per questo si può vedere il nostro cammino in modo positivo: siamo sulla strada giusta. Anche il mercato deve essere improntato nel confermare la squadra.
Al momento la classifica recita: Juve 42, Inter 42, Lazio 36 (ma deve recuperare la partita col Verona) e Roma 35. L'Inter è stata la squadra più costante nelle prestazioni, mentre la Juventus è prima anche grazie a errori arbitrali. La Lazio ha stupito. E' una squadra forte nel campo e politicamente (al punto da contendere il predominio della Juventus). Mi rimane il dubbio se questo sia solo un momento di straordinaria forma o se darà continuità alle sue formidabili prestazioni (lo stesso discorso vale per l'Inter), mentre la Juventus appare molto più vulnerabile rispetto gli scorsi anni. Le 3 squadre che ci precedono sono tutte battibili da noi. L'Atalanta(31) e il Cagliari (29) ci insidiano per il quarto posto. Il mese di gennaio sarà decisivo perché ci saranno molti scontri diretti. Nel prossimo turno, ci sarà Juventus-Cagliari e Napoli-Inter. Il Napoli è la mina vagante del campionato visto che è in basso in classifica, ma partiva tra le favorite del campionato ed è in gioco negli ottavi di Champions League (l'avversario sarà il Barcellona). Affronterà anche la Lazio nell'ultima partita di andata (Lazio-Napoli) e la Juventus nella seconda giornata di ritorno (Napoli-Juventus). Per capire meglio le nostre ambizioni, sarà fondamentale la partita del 12 gennaio con la Juventus, ma prima dovremo essere concentrati per sconfiggere una buona squadra come il Torino.
Prendendo spunto da un recente articolo di Ryosaku su Dinamo Sassari Unofficial (ottima pagina facebook: testimone e aiutante in tanti trofei portati a casa dai sardi), penso che i 5 cardini del nostro futuro successo sono: coraggio, lavoro, ambizione, consapevolezza e spirito di gruppo. Dovremo tenere ben presenti questi 5 concetti per vincere e se daremo molta importanza a queste 5 parole, potremo portare a casa i trofei. Andiamo a vincere. Daje Roma!

So far, Roma are fourth. She has a record of 10 wins, 5 draws and 2 defeats, with 33 goals scored (4th league attack) and 17 conceded (3rd league defense on an equal footing with Juventus). In the last 7 games (considering both the Serie A and the Europa League), we have a record of 5 wins and 2 draws, which have confirmed the qualification for the last 32, where we will face Gent, who is in the winter break, currently second with Charleroi and Antwerp, even if Charleroi has one game less. These data confirm that Roma is one of the best teams in the league (and one of the favorites in EL) and that it is growing, which is why you can see our path in a positive way: we are on the right track. The transfer market must also be based on confirming the team.

At the moment the table reads: Juve 42, Inter 42, Lazio 36 (but must recover the game with Verona) and Roma 35. Inter was the most consistent team in performance, while Juventus is first thanks to referee errors. Lazio amazed. It is a strong team in the field and politically (to the point of contending for the dominance of Juventus). I remain doubtful whether this is only a moment of extraordinary form or whether it will give continuity to its formidable performances (the same goes for Inter), while Juventus appears to be much more vulnerable than in previous years. The 3 teams that precede us are all beatable by us. Atalanta (31) and Cagliari (29) threaten us for fourth place. The month of January will be decisive because there will be many direct match. In the next round, there will be Juventus-Cagliari and Napoli-Inter. Napoli is the loose cannon of the league since it is at the bottom of the standings, but it started among the favorites of the championship and is at stake in the Champions League round of 16 (the opponent will be Barcelona). He will also face Lazio in the last first leg (Lazio-Napoli) and Juventus in the second match of second leg (Napoli-Juventus). To better understand our ambitions, the match of 12 January with Juventus will be fundamental, but first we will have to be concentrated to defeat a good team like Torino.

Taking inspiration from a recent article by Ryosaku on Dinamo Sassari Unofficial (excellent facebook page: witness and helper in many trophies brought home by the Sardinians), I think the 5 cornerstones of our future success are: courage, work, ambition, awareness and team spirit. We will have to keep these 5 concepts in mind to win and if we give much importance to these 5 words, we will be able to bring home the trophies. Let's go win. Daje Roma!
Giordano Sepi