Heat and fatigue are not excuses. They apply to us and apply to opponents.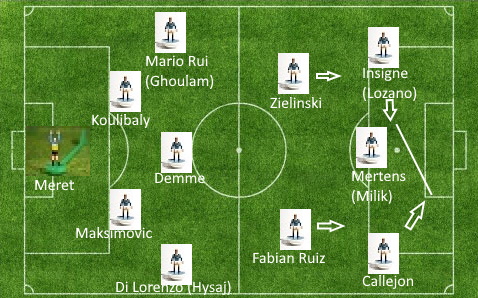 The playmaker is Demme or Lobotka, however they do not have a real game builder among the central defenders and suffer from pressing. We can also score thanks to the cross kicks. Despite the defeat against Atalanta, they are a team of great technical quality and in great shape. Watch out for the Ghoulam's corner kicks from our left, their right, that go to the goal on the second post. Very dangerous. Insigne and Mertens are dangerous when they go towards the center from the left to shoot from outside (both are mainly right-footed). right midfielder should be Ruiz (left-footed) and Zielinski should be the left midfielder (good with both feet) play very wide and very offensive. Callejon (right forward) is dangerous when they cross from their left and shoot from the far post. Our left-back must be careful because he can go behind him. Attention to both shots from outside, especially with effect, and give and go in the offensive area. Their weak points are the full backs (Hysaj or Di Lorenzo on the right and Mario Rui or Ghoulam on the left) who have problems in the construction of the game (Di Lorenzo) or do not have a strong defensive sense (Hysaj, Mario Rui and Ghoulam). Usually, however, they get quite stuck in defense.
They will be pressing, so the key to the game can be our construction from below.
Even though my tactical reading is not correct, detailed and precise enough, I expect the team to put their hearts on the field. We have the chance to win, but only if we play with the maximum effort. Daje Roma!
Giordano Sepi