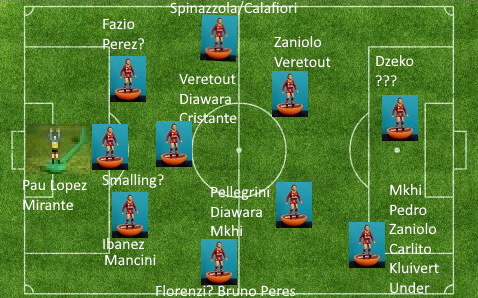 I put the current Rome down as I would put it. The order of the players is variable. I chose to put Fazio first as left central defensive player for seniority in Roma, while I am convinced that the typical formation of Roma must be with Zaniolo and Pellegrini in midfield (even if in this position they MUST ALSO DO THE DEFENSIVE PHASE). Especially with the small and medium-sized ones. In general, if you put in a high technical quality, usually you haven't got the formation wrong, then there are also other variables such as motivation, psychophysical condition and ESPECIALLY THE DEFENSIVE PHASE. For this reason, with the strongest teams we could also field an all-worker midfield with Diawara-Cristante-Veretout, perhaps putting Zaniolo as second striker.
As you can see, if we keep Florenzi (choice, for the contingent situation of the market, for the qualities of the player and for Alessandro's sporting faith, which I fully agree with), we must take at least two defensive centrals (given for certain at least the sale by Juan Jesus) and a first striker with the role of Dzeko's replacement (given for certain that Dzeko will remain). In second striker position we have far too many players.
In general it does not seem to me such a mediocre team. Of course, at least two central defenders are missing and another first striker, but some positions can also be adjusted. You can also play with 2 small strikers, for example.
We are still in the work-in-progress phase. Surely seeing the team on the field on September 5th with Sambenedettese and on September 9th with Frosinone will clear our minds also from a tactical point of view. We have a team of high technical quality and we need not fear anyone, if something is missing, they are on the defensive, but it is a fairly comfortable work table to work on. Daje Roma!
Giordano Sepi