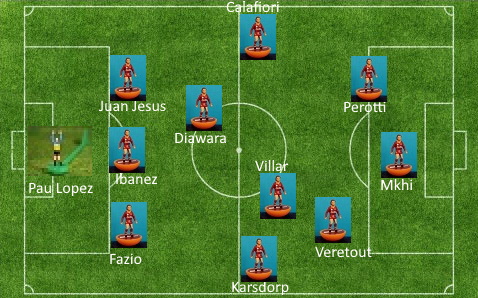 At times we were too slow, especially to widen the game on the wings, when we were too clogged in the center.
Bravi Calafiori (1 assist), Villar (1 assist), Veretout (1 goal), Perotti (1 goal) and Mkhitaryan (1 assist and 1 goal). In the second half, Seck, Ciervo (1 assist) and Antonucci (1 goal) did well, only the under-19s, to try to be seen, were looking too much for the individual solution. The score could have been wider.
Defensive phase, defensive phase, defensive phase. The defensive phase is not only grit, but also cunning and reaction time. For this reason, the two penalties granted are mainly our mistakes (later scored by Maxi Lopez). When the opponent enters the box, the first choice is to wait, certainly not to slide. You can only slide when you are super confident that you are catching the ball. Never in the box like Karsdorp did. Never as the last man (as Ibanez did in the unfortunate match against Sevilla). For the defensive phase, it seems clear that we must definitely buy central defenders (as is happening with Smalling, Pèrez and another as substitutes for Juan Jesus and Fazio, if they are sold), but also another good midfielder especially in the defensive phase.
However, the signs are positive. Mkhi as a false 9 worked very well. Villar played very well as an attacking midfielder. Even the wings, despite some criticisms scattered on social media, played well, especially Calafiori. As I have already written: we have to fix the defensive phase, but the material is good. Daje Roma!
Giordano Sepi