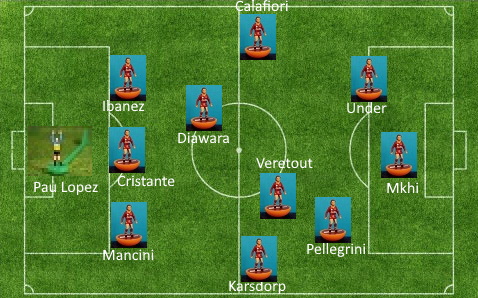 Roma won thanks to 4 very beautiful goals due to the team's unanimity and cunning in the last pass. We scored with Karsdorp, Under, Pellegrini and Mkhi with 2 assists from Pellegrini, 1 from Mancini and 1 from Mkhi. Roma dominated and is almost never put in the defensive phase, which is still to be improved, given the goal concedeed to Dionisi.
We also need to improve in building up. Fonseca is almost obsessive in trying to build from behind and we can't always succeed, so it's essential to play with one or two touches in a brilliant and conscious way. However, in extreme cases it is not forbidden to throw long. I liked two Roma players above all: Cristante as a central defensive player managed to build well, thanks also to advances from Mancini and Ibanez, and Lollo who, as the coach pointed out, often played with one touch.
In general we played better than the match with Samb., Thanks to a more advanced stage of preparation and thanks to the return of the national players. We are on the right road. Frosinone are a good Serie B team that this year have to set the Serie A goal. Having them so clearly subdued has shown that we are improving. There are still things to improve (like the defensive phase) and to perfect (like building from behind), but the signs are good. Now we have to put the maximum effort into my friend Ryosaku's Cagliari. If we win big, it will mean we're ready. Daje Roma!