CAGLIARI-ROMA 2-2, il tabellino
Scorers: 38′ Rog (C), 43′ Walukiewicz (C), 59′ Under (R), 61′ Mkhitaryan (R).
CAGLIARI (4-3-3): Cragno (72′ Vicario); Faragò (82′ Pinna), Walukiewicz (67′ Pisacane), Klavan (82′ Carboni), Lykogiannis (82′ Pajac); Caligara (63′ Ladinetti), Oliva (46′ Sottil), Rog (79′ Conti); Nandez (92′ Contini), Simeone (67′ Pavoletti), Joao Pedro (67′ Zappa).
Bench: Aresti.
Coach: Eusebio Di Francesco.
ROMA (3-4-2-1): Pau Lopez; Mancini, Cristante (46′ Under), Ibanez (85′ Juan Jesus); Karsdorp (67′ Santon), Diawara, Veretout (92′ Seck), Spinazzola (67′ Calafiori); Pellegrini (67′ Villar), Mkhitaryan; Dzeko (67′ Perotti (80′ Antonucci)).
Bench: Berti, Mirante; Feratovic, Bouah.
Coach: Paulo Fonseca.
Referee: Enrico Cappai di Cagliari.
First half. Let's start with a 4312 not much tried before. In general we dominate, but we try too many times the shot from outside the area [imprecise or (often) mozzarella]. We conceed goals first from a wrong construction, when we also miss Joao Pedro's slow cross and then from a corner with Ibanez and Cristante not jumping and Pau Lopez not coming out. In general, the goalkeeper played well (I believe in you, Pau!) blocking a dangerous shot from Simeone and saving on a counterattack in the closing minutes of the second half.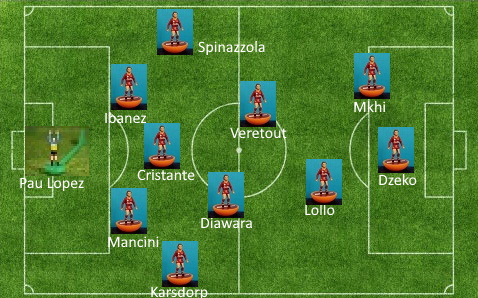 Second half. Much better the pressing and the attacking game with 4231. Karsdorp very well and Santon well as right-backs. The best in the field is Cengiz who alone changes the game. The Turk scores the first goal and collaborates on the second, with the give and go with Karsdorp who then crosses. Dzeko's heel saved by Cragno and Mkhi's goal into an empty net. Then we continued the dominance, coming close to winning the game. At this stage we are too firm with the forwards and midfielders who do not find outlets because Cagliari does well in the defensive phase. Maybe we needed more wickedness to win, but we were probably tired and we also grant the Sardinians a great chance, as I wrote before. The option with a false 9 Mkhi should also be considered for the future. The Armenian make more pressing than Dzeko, even if the Bosnian is an excellent point of reference both in construction and in the attack phase. However, remember that a true striker is a reference point (therefore a positive point) for the attack, but also for the defense.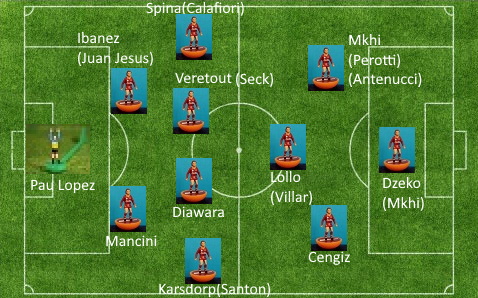 Now head to Hellas Verona. We have all the credentials to win at Bentegodi. It will be a test to improve the defensive phase and the building up, but the score is imperative. We have to win! Daje Roma!
Giordano Sepi