Verona (3-4-1-2)Silvestri, Cetin, Gunter (67′ Ruegg), Empereur (19′ Lovato), Faraoni, Danzi, Miguel Veloso, Dimarco, Tameze (66′ Barak), Tupta (46′ Zaccagni), Di Carmine (78′ Ilic)
Coach: Juric
Roma (3-4-2-1)Mirante, Mancini, Cristante, Ibanez, Karsdorp (72′ Santon), Diawara (89′ Villar), Veretout, Spinazzola, Pedro, Pellegrini Lo. (79′ Kluivert), Mkhitaryan
Coach: Fonseca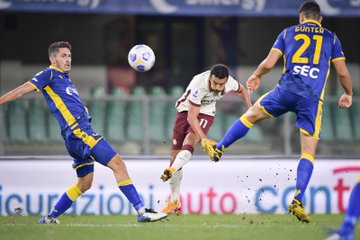 In the first half, we dominated but we were unable to break the deadlock, especially due to the imprecision of Mkhi, Pellegrini and Pedro who, however, with their fast phrasing in the frontcourt proved to be players of great quality. The conclusions (even from very close) were too loose or out of the door, while we must remember to pull hard to get the door. Our man of the match was Cristante. Veretout proved to be a great freekicker.
In the second half, we suffer from fatigue and Zaccagni's entry into the field. We can't get out with the construction and Verona has several opportunities. We could have made more changes and done them first. Overall, the result is fair.
In the second half, our tiredness was a factor and, while Verona used all 5 changes, Roma only made 3 substitutions and made them at the end of the game. Having 5 changes that you can make during the match changes the tactical mentality of football a lot. It may not always be the right choice to put the best formation at the beginning. For example, we could have started with Villar from the start and let Diawara enter the second half towards the 60th. In any case, even for the imperfect pre-season preparation, it is important to play with 16 players.
The market strongly influenced the game. Dzeko was unable to enter because we are in talks with Juve, even if the situation is very fluid. Kumbulla had done only one training. Fonseca said "I only had 3 corner back". But in such a fluid market situation, you have to rely on everyone, even players on the market like Fazio and Juan Jesus.
Now head to Juve. The new coach Pirlo is certainly important, but mainly Juve's strength is the great personality of its players, such as the pair of corner backs: Bonucci-Chiellini. It will be a difficult match, but for us it is already decisive on our ambitions and I'm sure we can win. Daje Roma!
Giordano Sepi