Very often in football and in sport in general, one of the differences between a champion and a good player is making the right choice. This means that 1) The coach must prepare a scheme (and the teammates must free themselves) for which the single player has the choice between two or more options; 2) The player must choose the solution that he sees best (mainly) and (secondly) the choice that least expects the opponent so it is very important to train to improve one's defects (such as the weak foot and the less used solution) . 3) The player must vary the choice to be as less predictable as possible. This is the stereophonic vision that (I think) I heard from Flavio Tranquillo a few years ago in an NBA commentary. This is valid in basketball, but also in football.
Vado ora a spiegarvi due situazioni di visione stereofonica:
Give and go or third man;
Attackers make opposite movements. One goes back to help build. One goes ahead and attacks the offside line. To facilitate the drawing, given my modest means, I put the striker attacking the very lateral line, which is also good, but it is better if he is more central to have more visual with the shot.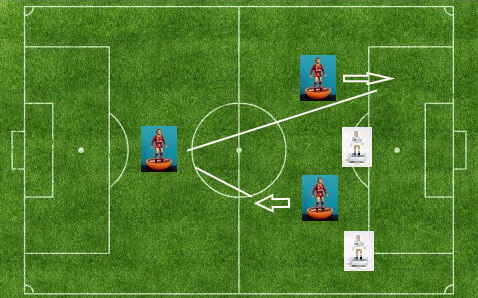 It is very difficult to recover the Champions zone at this moment of the season with Lazio at -1 and Lazio-Torino to recover, Napoli at +3 with Juve-Napoli to recover, Juve (with Juve-Napoli to recover) and Atalanta at + 5 and I do not exclude the possibility of recovering AC Milan at +9. Of course we will have to fight and it will be difficult, but with 10 games to play, we can do it. Let's think of one opponent at a time. Also in the Europa League we take home the qualification with Ajax, then we'll take care of the rest.
The stereophonic vision is also taking the field to eat opponents and field alike in Serie A and in the Europa League. It means fighting in every match with the heart and head, with ringworm and intelligence. We have two paths to the Champions League. Both passable. We have to try and we can do it in both theaters of war. Daje Roma!
Giordano Sepi