Atalanta are one of the best teams in Italy, probably the most in form, they always run, steal the ball, often in the frontcourt for them. We came from a series of indecent performances in Serie A, we had several injuries (Smalling, ElSha, Kumbulla, Pedro and Spinazzola), Diawara suspended, a couple of players not at their best (Mkhi and Veretout, even if they are recovering) and we are with head on the UEL.
In fact, the first half is dominated by Bergamo. They put us under. They have at least 5 occasions where Pau Lopez is good. They take the lead with Malinovskyi and have other chances. In general, the 0-1 at the end of the first half is more unfair for them than for us.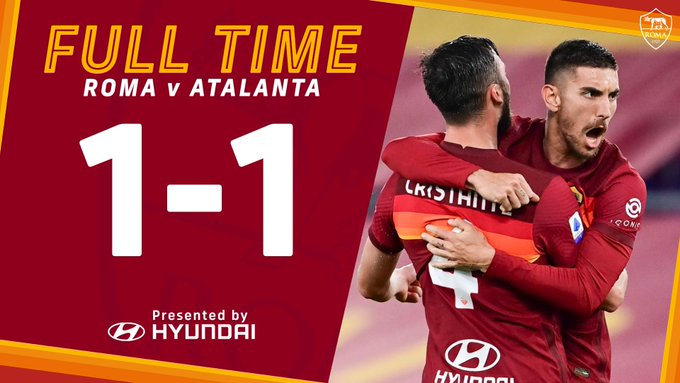 In the second half, it seems the same script as the first: Atalanta runs, recovers the ball, enters hard, but due to two hard entries by Gosens (two yellow cards, then a red card), they end up outnumbered. At that point Roma took courage, but the goal came only for a precise, tense shot from 35 m. by Bryan Cristante with complicity of Gollini (1-1).
Roma attack and go close to scoring on a couple of occasions without succeeding: first with Dzeko who played an excellent game and then with Carles Perez who played well when he entered. In these cases, Gollini is good. The match ends 1-1 with a bad red card for Ibanez (bad but fair).
It is not tonight's game that affected the Serie A season. The problem is not to draw with Atalanta, but to lose with Parma and Torino and draw with Benevento and Sassuolo. However, Roma must start winning again in Serie A, also because we have no certainty about UEFA's free-kicks for the Super League experiment, which currently includes Barcelona, Juve, Milan and Real Madrid. Today in Nyon is in many ways decisive for the season (and perhaps also for the history) of Roma, but we can and must put in more effort starting from Sunday with Cagliari. Daje Roma!
Giordano Sepi