The match was beautiful. Both teams fought to the last breathless. In the end, the right result is a draw. The defenses beat the attacks. Ibanez (MASTODONTICO yesterday) for me was the best in the field, but also on the other side Koulibaly was gigantic. Cristante, Zaniolo and Mancini are also very good. In general we have to talk more in front of us, better if before, and be more precise in the passages.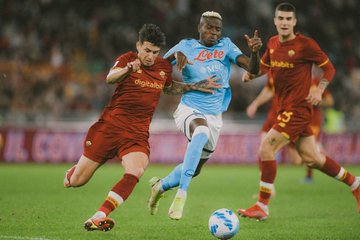 Napoli is a great team that can aim to win the Scudetto. But we too can have our say for the first four places. We are fourth at the moment, but we can aim to climb the rankings. We will have to play the best of ourselves with determination, perseverance and mental solidity. We will have to use the same mentality as yesterday with Cagliari.
Cagliari. One people, one land, one team. Cagliari has always brought Sardinia to Serie A. Sardinia is an island with a very specific identity, with a fabulous cuisine (porceddu, seadas and malloreddus are wonderful dishes), with a culture in which it mixes truly original native influences, Arabic, Spanish and Italian and even a language well defined. Sardinia is beautiful. A paradise on earth. A fantastic sea. A gentle atmosphere. Sardinians are proud, often intelligent, sometimes a little stubborn. For a Sardinian there is Sardinia and then there is the Continent (also Italy) and this vision is also reflected on the pitch. At their home, it's hard to beat them.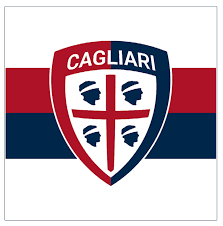 Mazzari fields the 442 with left back Lykogiannis and right wing Nandez.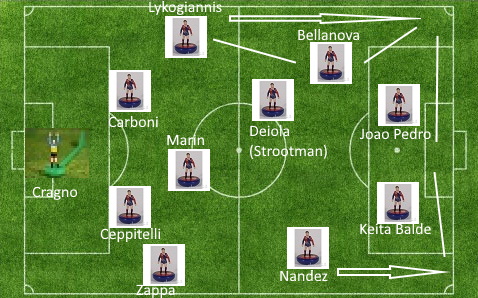 In the first 15 minutes we will have to defend well and know how to attack on the counterattack, they press aggressively on the defenders, the two forwards press the two central back (even if Joao Pedro also presses the point guard) and the two wings press the full backs. Alternatively they can press the central defenders with Marin and the full backs with Keita Balde and Joao Pedro. If we can get over the pressing with just a few touches, we can be dangerous. Then they defend and counterattack.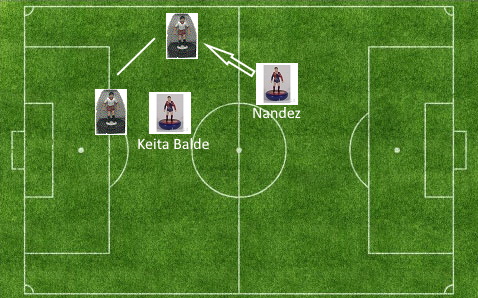 Marin is also very good in the attack phase, especially with the long shot. Lykogiannis is left-footed and has an excellent foot mainly for crosses, but also for shooting, while the two strikers, Keita Balde and Joao Pedro are mainly right-footed. Both very dangerous and intelligent. We are very careful. They try to attack specifically on the right with Nandez, but are more dangerous with Lykogiannis. Nandez is very strong, especially in pressing and in recovering the ball.
Press by zone on corners and free kicks.
If we will put in the field our soul and our head that we put with Napoli, we can win and win easily. Daje Roma!
Giordano Sepi