Venezia took the lead in the first minutes with Caldara. Roma drew with Shomurodov and then took the lead with Abraham. Then Venezia drew with Aramu's penalty and won thanks to a goal from Okereke.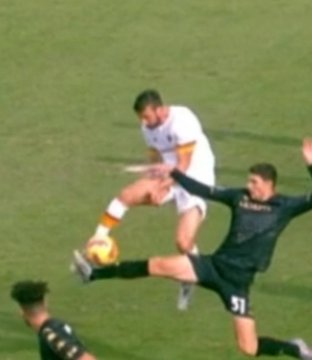 The key to the match was the penalty for Venezia: a ridiculous thing as can also be seen from the photo. At least it was a foul on Cristante, not the other way around. The whole game had various controversial situations, all decided by the referee in favor of the neroverdiarancioni. Are all these errors a coincidence? Why are everyone against Roma? Is this situation normal?
In reality, Rocchi, the chief referee, had already warned Mourinho and Roma that if the protests continued, they would be very severe. And here it is. This, however, is called RETORSION. And this is mafia behavior. Referees must ensure impartiality, regardless of the statements of a club. Moreover, Serie A, which already has reputation problems abroad, also allowed a ridiculous match like Lazio-Salernitana 3-0, both of the same owner.
The picture is this. It is really frustrating to talk about these facts and have these suspicions without talking about tactics, but more or less Italy (doesn't) work like that in all fields. Italians are so much fascist with others and they are not so much with themselves. Order and discipline? Yes, for others, not for me. Most do not make bills, they force to work illegally. It is a whole circle, in which if the state does not resort to public debt, Italy would collapse. The current GDP growth is due to this. And when the state pays, the Italian takes advantage of it. He feels smart, in fact he is hurting himself first and foremost.
It must be said that Italy is the 2nd country with the highest number of vaccinated against COVID, behind only Spain. So the Italians have a civic sense. The same civic sense is not enough only in emergency situations, but also in everyday life. Spain has more civic sense than us and in fact, economically it has surpassed us. This is the way and there is no other.
Regardless of the referee mistakes against Roma, Serie A 21/22 is a joke simply for the fact that two teams have the same owner (and go and see Lazio's goals at Salernitana). The same owner who was simply inhibited by the League Council for playing COVID positive footballers and then was also readmitted.
This is Italian football. A continuous struggle for power. I favor you. You rise in rank. I take more power. The field is a dependent variable of these power games. So what am I talking about tactics when the field is not the sole judge of Roma? Why should Roma continue to play with this situation?
No, Roma must not surrender to this state of affairs. I don't have to give up. I will continue to write about culture and politics. I will prepare the matches tactically because there are a people, the Giallorossi, who have a pure passion and deserve this. If the errors continue, I will report them (also in English). Hoping that Roma's strength will be greater than referees and corrupt people, I will continue to write. Daje Roma!
Giordano Sepi