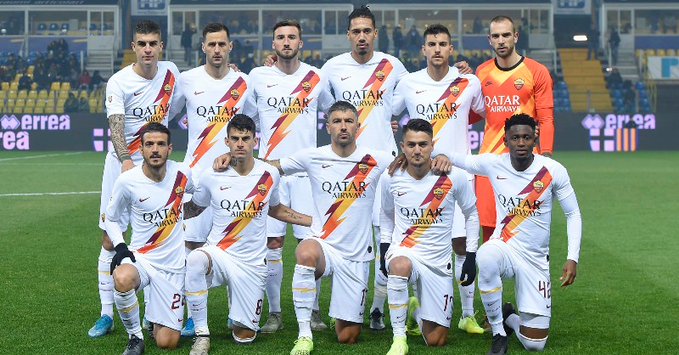 Primo tempo: dominio del possesso e territoriale, partita nella loro metà campo, tanti cross sul secondo palo dove non c'è nessuno, un tiro in porta. Poi nel secondo tempo finalmente Pellegrini accende la luce, segna un gol dopo "dai e vai" con Kalinic (0-1) e realizza il rigore dello 0-2 finale. Abbiamo cambiato schieramento. Fonseca ha messo in campo la difesa a 3 con Cristante tra Mancini e Smalling. Con l'ingresso di Kluivert, la Roma è molto migliorata, anche perché in quel momento il Parma stava attaccando per recuperare lo svantaggio e noi colpivamo in contropiede. Bruno Peres ha giocato bene e, per me, è candidato fortemente per un posto da titolare col Genoa.
Adesso dobbiamo concentrarci sul Genoa: partita fondamentale per la classifica con un avversario in ripresa grazie a Nicola, ma per le nostre qualità tecniche la vittoria è alla portata. Teniamo bene a mente le considerazioni di questo postpartita per portare a casa la vittoria al Marassi. Daje Roma!

First half: domination of possession and territorial, game in their half of the pitch, many crosses on the second post where there is no one, a shot on goal. Then in the second half Pellegrini finally turns on the light, scores a goal after "give and go" with Kalinic (0-1) and realizes the penalty of the final 0-2. We have changed formation. Fonseca fielded the 3-men defense with Cristante between Mancini and Smalling. With the entry of Kluivert, Roma has improved a lot, also because at that moment Parma was attacking to recover the disadvantage and we hit on the counterattack. Bruno Peres played well and, for me, he is a strong candidate for a starting position with CFC Genoa.

Now we have to focus on CFC Genoa: a fundamental game for the table with an opponent recovering thanks to Nicola, but for our technical qualities the victory is within reach. We keep in mind the considerations of this post-match to bring home the victory at Marassi. Daje Roma!
Giordano Sepi