Coltello tra i denti. Andiamo ad affrontare un avversario forte, probabilmente più forte della Juventus che ci ha battuto 3-1. Più avanti spiegherò i punti di forza su cui stare attenti e i punti deboli su cui spingere, ma se l'atteggiamento è lo stesso di mercoledì, non presentiamoci nemmeno in campo. Non prendiamoci in giro.
Continuo ad essere convinto che la Roma, se avesse giocato con voglia di vincere, avrebbe potuto vincere con la Juve anche a Torino e sono convinto che la Roma, se giocheremo con voglia di vincere, il furore negli occhi e la grinta necessaria a una partita per tanti motivi diversa dalle altre come il derby, può sconfiggere la Lazio.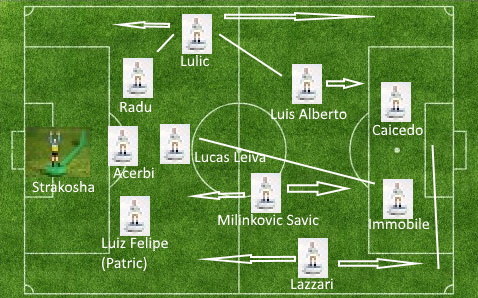 La Lazio è pericolosa in 4 modi diversi:
Simone Inzaghi mette in campo la Lazio col 352. Il gioco si sviluppa soprattutto sulla sinistra con Radu-Lulic-Luis Alberto, ma poi cambiano il lato, giocando su Lazzari, che è più offensivo di Lulic. E' destro ed è bravo soprattutto con i cross. In questo caso dovremo stare attenti a Immobile, Caicedo e agli inserimenti di Milinkovic Savic.
Un'altra arma è il contropiede che si sviluppa in due modi:
O con Luis Alberto che porta palla dalla difesa all'attacco ed è poi pericoloso soprattutto con l'assist. In questa situazione, loro scendono in tanti.
O con lanci lunghi da parte di Acerbi e Lucas Leiva soprattutto per Immobile.
Altro modo con cui sono pericolosi è sui corner quando Luis Alberto (da sinistra) crossa lungo sul secondo palo a rientrare verso la porta.
Punti deboli:
Soffrono il pressing. E' più importante mettere sotto pressione Acerbi che Lucas Leiva (che il Napoli non ha marcato). Il portiere (Strakosha) non è bravissimo con i piedi.
Lazzari è un'ala soprattutto offensiva, quindi dobbiamo attaccare con Kluivert e Spinazzola soprattutto sulla nostra sinistra, loro destra, anche perché Luiz Felipe o Patric sono il difensore centrale più debole.
Siamo caduti ma ci dobbiamo rialzare. E' una partita da giocare con concentrazione e intelligenza ma soprattutto con il coraggio e la grinta che ti sono dati solo da un grande cuore. Possiamo vincere. Andiamo a vincere. Daje Roma!
Knife between the teeth. Let's face a strong opponent, probably stronger than Juventus who beat us 3-1. Later on I will explain the strengths to watch out for and the weaknesses to push on, but if the attitude is the same on Wednesday, let's not even show up on the pitch. Let's not fool ourselves.

I continue to be convinced that Roma, if she had played with the will to win, could have won with Juventus also in Turin and I am convinced that Roma, if we will play with the will to win, the fury in their eyes and the necessary grit to a game for many reasons different from the others like the derby, we can defeat Lazio.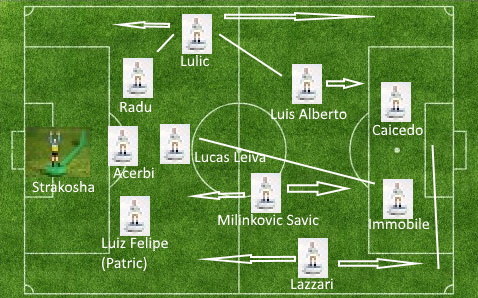 Lazio are dangerous in 4 different ways:

Simone Inzaghi puts Lazio on the field with 352. The game develops mainly on the left with Radu-Lulic-Luis Alberto, but then they change the side, playing on Lazzari, who is more offensive than Lulic. He is right and is good above all with crosses. In this case we will have to be careful of Immobile, Caicedo and the insertions of Milinkovic Savic.

Another weapon is the counter-attack which develops in two ways:

Or with Luis Alberto who takes the ball from the defense to the attack and is then dangerous especially with the assist. In this situation, many of them go forward.

Or with long throws by Acerbi and Lucas Leiva especially for Immobile.

Another way they are dangerous is on the corners when Luis Alberto (from the left) crosses long on the second post with effect towards the goal.

Weaknesses:

They suffer the pressing. It is more important to put Acerbi under pressure than Lucas Leiva (who Napoli has not marked). The goalkeeper (Strakosha) is not very good with his feet.

Lazzari is above all an offensive wing, so we have to attack with Kluivert and Spinazzola especially on our left, their right, also because Luiz Felipe or Patric are the weakest central defender.

We have fallen but we must get up. It is a game to play with concentration and intelligence but above all with the courage and determination that are given to you only by a big heart. We can win. Let's go win. Daje Roma!