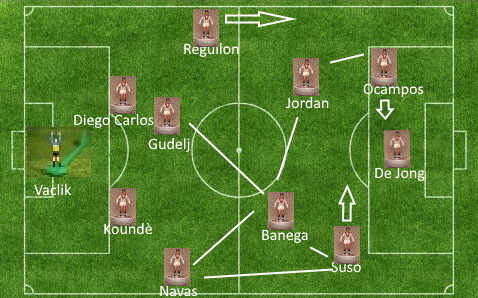 Lopetegui schiera il 433. Tendono a cercare il dominio del campo anche partendo col palleggio dal portiere. Spesso fanno molto possesso anche in zona offensiva. Fanno pressing e lo soffrono.
Sui calci d'angolo, marcano ibridi(in modo molto approssimativo) 3 in marcatura e 6 a fare il castelletto.
Potrebbero giocare con le ali a piede pervertito. Ocampos (destro, gioca a sinistra) forte soprattutto di testa, si apposta sul primo palo sui calci d'angolo. In generale, dobbiamo stare attenti sui cross sul secondo palo su di lui. E' bravo anche nel dribbling. E' il giocatore più pericoloso. Suso gioca a destra, ma è tutto sinistro, quindi attenzione quando va verso il centro per tirare con il sinistro. Ogni tanto Suso si può spostare sulla fascia sinistra o al centro (come faceva Bale nel Real sempre di Lopetegui).
Gli andalusi sono una squadra tipicamente spagnola, tipica di Monchi, tipica di Lopetegui, costruita con un centrocampista difensivo (Gudelj) che a volte fa anche il terzo centrale e due trequartisti come Jordan e Banega. Banega fa più passaggi, ma Jordan fa i passaggi più decisivi in fase offensiva (stiamo attenti in fase di non-possesso).
Producono molto in zona d'attacco, ma anche qualche lacuna in difesa (soprattutto sui calci piazzati da cross). E' importante che Edin vinca il duello con Koundè, forte soprattutto con la testa, per questo giochiamo palla a terra.
Dicen que nunca se rinde. Si dice che non si arrendono mai. Questo è il motto del Siviglia. Significa che è molto difficile batterli soprattutto al Sanchez Pizjuan, ma l'Italia merita questa vittoria, Roma merita questa vittoria. Daje Roma!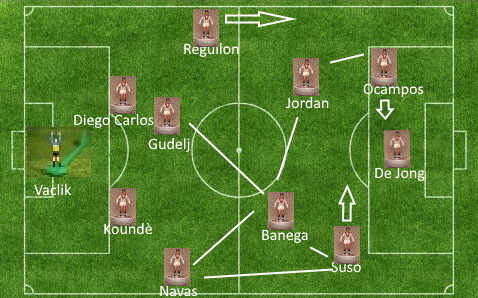 Lopetegui deployed the 433.They tend to seek dominion of the field even starting with the passing game from the goalkeeper. Often they do a lot of possession even in an offensive zone. They press and suffer the pressing.

On corner kicks, they mark hybrids (very roughly) 3 in marking and 6 to make the castle.

They could play with perverted foot wings. Ocampos (right, plays on the left) strong especially with his head, he leans on the first post on the corner kicks.In general, we have to be careful about the crosses on the second post on him. He is also good at dribbling. He is the most dangerous player. Suso plays to the right, but he is completely left, so be careful when he goes towards the center to shoot with the left. Occasionally Suso can move to the left wing or to the center (as Bale did in the old Real of Lopetegui).

The Andalusians are a typically Spanish team, typical of Monchi, typical of Lopetegui, built with a defensive midfielder (Gudelj) who sometimes also makes the central back and two offensive midfielders like Jordan and Banega. Banega makes more passes, but Jordan makes the most decisive passes in the offensive phase (we must be careful in the non-possession phase).

They produce a lot in the attacking area, but also some gaps in defense (especially on cross-placed kicks). It is important that Edin win the duel with Koundè, strong especially with his head, for this we play ball on the ground.

Dicen que nunca se rinde. It is said that they never give up. This is the motto of Sevilla. It means that it is very difficult to beat them especially at Sanchez Pizjuan, but Italy deserves this victory, Rome deserves this victory. Daje Roma!
Giordano Sepi